The Strand at 38 Main
Waynesville, NC
Wednesday, March 21, 2018
CLICK SHOWTIMES TO PURCHASE TICKETS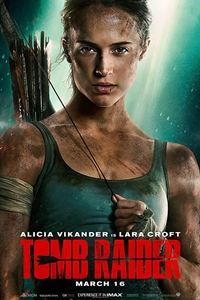 Tomb Raider
Rating: PG-13
Runtime: 1 hr. 58 min.
7:00 PM
A Small Music Venue and Movie House combining a memorable, laid-back vibe with jaw-dropping acoustics in downtown Waynesville, NC.
The Strand at 38 Main
38 North Main Street,
Waynesville, NC 28786
Movieline:
(828) 283-0079
Office:
(828) 548-0778
Regular
Adult -
7.25
Senior Citizen -
6.75
Military -
6.75
Child (3-12) -
5.50
Matinee
All Matinee Pricing -
5.50
Policies
Age Policy: Children under 2 are free except in reserved seating or potential sell out shows. Children 3 to 11 must pay the child admission price. Senior tickets are valid for adults 60 years and older. Not all ticket types are available for all performances. ADA Seating: 1 The Strand at 38 Main theatre is handicap accessible. Access to the theater is available from our Wall Street entrance, if it is not possible for customer to go up or down a small flight of stairs. Feel free to contact the theater ahead of time to alert us to special needs before arrival. 2 If you need assistance for any reason, please ask one of our theatre personnel for assistance. Costumes with Masks and Props: Protecting the safety of our clientele and cast members is always top priority at The Strand at 38 Main; therefore, we do not allow admission to our locations for guests of any age wearing a mask, face paint or face-obscuring hood; or possessing weapons, props or fake weapons. Backpacks/Packages/Bags: Security issues have become a daily part of our lives in America. The Strand at 38 Main wants our customers and staff to feel comfortable and safe when visiting or working in our theatres. In that regard, as a general rule all backpacks, packages and large bags of any kind are subject to inspection. However, our admission policies may be modified periodically as necessary to ensure, to the extent possible, the safety of our guests. We acknowledge that this procedure can cause some inconvenience and that it is not without flaws, but hope these are minor in comparison to increased safety. Skateboards and Hoverboards: In the interest of safety in the lobby and theater, guests should not be allowed to bring skateboards or even the electric two-wheeled "hover boards" onto theatre property. These recreational transportation boards can be a slip/trip/fall hazard when introduced into the theatre environment. In addition, management and employees should never hold any such items for the guest and should ask the guest to remove them from the theatre entirely. Lost and Found: The Strand at 38 Main is not responsible for lost, stolen, or recovered personal items. Before leaving the theater, please check around your seat for any personal belongings. For assistance, contact a staff member, or reach out to us in attempt to determine if the item has be recovered. Film Theft: No recording devices (cameras, video recorders, sound recorders, etc.) are permitted to be used within our Theater. Personal Communication Devices: In consideration of all our guests, we ask that you please refrain from using cell phones, pagers, or any other personal communication device while in the theater. Altercations or Disturbances: In the event that any guest is involved with an altercation or witnesses a disturbance from other guest and The Strand at 38 Main personnel is notified. The Staff will do their best to assess the situation, and remove anyone from the building that they see fit. If necessary, management will contact the local police department to step in to handle the situation. No Solicitation: Soliciting or loitering on The Strand at 38 Mains premises is not allowed. No Smoking: The theater and Lounge are smoke-free environments. Including in front of our Main Street entrance and in our ally leading out to Wall Street. Outside Food or Drink: No outside food or drink is permitted in the theatre. Refund Policy: You can receive refunds for tickets up to 60 minutes before the show time. For purchases made via our website, please have ticket information available. For tickets purchased through other ticketing agencies, guests must contact the agency direct before the scheduled movie show time to request a refund. There are no refunds after the printed show time. For extenuating circumstances, management may offer the opportunity for a refund. These refunds will require the tickets to be available for full refund. If ticket is not available, the theater reserves the right to offer refund in form of a voucher for another visit. NO refunds will be given on concession items.